HERE'S MY GEAR!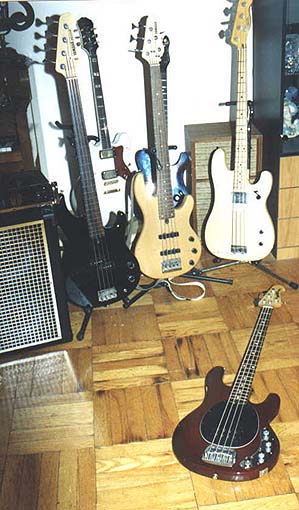 Yamaha BB200F Fretless, Epiphone Sheraton, Peavey Generation,
Yamaha BBN5 5-string, '72 Fender Tele, '92 StingRay
anmY
My Main RIG:

It's a big bad head with lots of headROOM! The folks at SWR swear there's
a fan in there, but mine gets so hot, I could serve up burgers!
But it is a kickass, totally shapable tone, serious head.
The amp is so heavy duty that only a serious 4ohm cab will do.
Only problem now is that it's hard to add another cab, as I could with 8ohm.
But is nice to drive all 350 watts!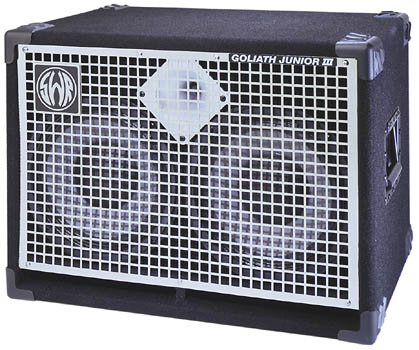 OTHER GEAR I ACTUALLY OWN INCLUDES:
1972 Fender Telecaster Bass
1992 Music ManSting Ray
Yamaha BBN5 5-string Bass
19?? Yamaha BB200F Fretless 4-string
Fender 300W BXR Combo (1x15, shown below)
Ibanez Cutaway Acoustic Guitar
Carvin PB100-10 Combo (1x10, shown below)
Martin Backpacker Acoustic
Hartke 2x10 Transporter Cab
Epiphone Sheraton Guitar
Peavey Generation Series Guitar
Tascam 424 4-track tape recorder
The combo monster...Fender's BXR300C. Powerful and heavy.
Not much in the way of tone though, but brutal bottom end!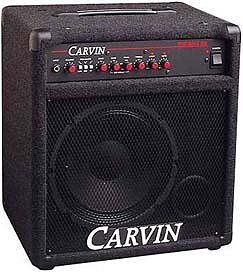 My new little Carvin PB100-10 is a tiny
powerhouse with some great tones!
Cool for small gigs. Lightweight, only 17" tall!
axes:

My '92 Music Man StingRay, serious musical furniture!
A workhorse and until recently, my favorite gigging and recording bass.
Now I'm playing the 5-string MUCH more.....here's it is

MY NEW TOY!

\