Blues Critic.com - The Online Home of Blues and Southern Soul


---
Hard Bargain
"More Than You Bargained For" (thebassguy Records)



by Dylann DeAnna


*** ½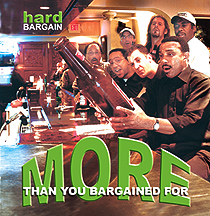 Hard Bargain is a great band name and this energetic 12-song set is a straight up house Blues party
combining originals with some well chosen covers. After the Southern swamp Funk/Rock intro (title track) and Ike Turner-like Rockin' Soul of "Ain't No Brakeman" the spirit of Stax permeates a portion of this record. From the stomping covers of Johnnie Taylor's "Who's Making Love", Clarence Carter's "Too Weak To Fight"
to the new "If You Feel For Me", one of three songwriting contributions from Jon & Sally Tiven (whose
credits include Little Milton, Wilson Pickett, Ellis Hooks, Sir Mack Rice). Horn & organ-laden backdrops,
hard pumpin' rhythm and a little of that "new-guys-with-something-to-prove" hunger that creates added excitement. The Tivens provide two more standouts with the Jazzy "Birthday Blues" which manages to (inadvertently?) borrow from "On Broadway" and take it Deep South and the swampy "Sittin' On A Time Bomb".



Showing his versatility singer "King Arthur" Canaday reaches down and pulls out a stirring Blues from ZZ Top's "Just Got Back From Baby's"; slowing the tempo and bringing out the drama. It even features an effective flute solo! (Rafik Cezanne). This is followed
by two Canady originals including the cheeky "Pop This Pill", another not-so-subtle ode to Viagra. A fun track that opens with a funky guitar lick by founding band member Alan Grossinger that recalls (to me) the Jackson 5's "I Want You Back". Nice touch. The band particularly shines on this one (also including Michael Cohen, bass; Ron Duncan, drums; Dave Falcone, guitar; Bill Blend, keyboards;
Eric Williams, trumpet & saxist "Mustang" Mike Corrado). These cats have good taste too for doing Graham Parker's should-be R & B classic "White Honey" (although Parker's gnarly pipes are better suited for this cut as opposed to plaintive "everyman" voice). I've
read somewhere the "listen Mr. Alligator" lyric from the title cut was directed at Alligaor Records' founder Bruce Iglaur as if saying
"we have arrived!" and that they have.


---