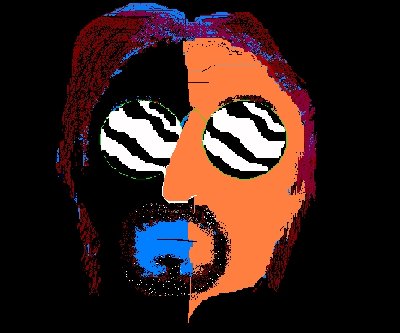 thebassguy
TM

Who is this guy, thebassguy, anyhoo?
Michael Cohen "bone & razed" in Atlanta, GA, and Sarasota, FL.
Graduated University of Florida at Gainesville, 1981. (do the math!)
Presently working in advertising production in NYC and playing bass for a fine
blues & R&B group. Also do some songwriting, play guitar & some keyboards.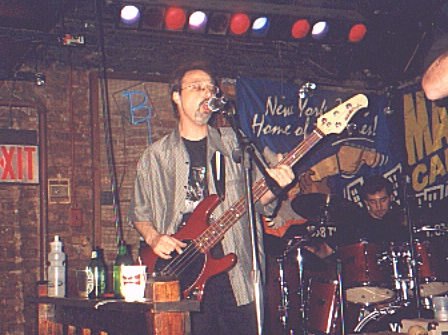 At Manny's Car Wash 1999
Photo by Jayne Wallace

PRIMARY MUSICAL SKILLS:
BASS GUITAR , GUITAR,
LEAD & BACKING VOCALS, SONGWRITING
OTHER SKILLS/TALENTS:
PERSONAL WEBSITE DESIGN, PRINT PRODUCTION,
MARKETING, PHOTOGRAPHY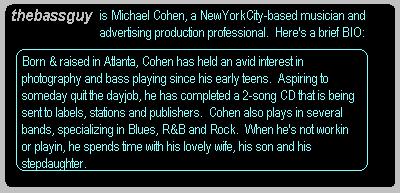 BANDS THAT I'VE PLAYED IN include:
Titus & the Black Earth Band '76
Southern Cookin' '79
Small Change '83-'84
Bonobo '91-92
Electric Altar '92-93
Zuma '94
Sonny Crow Hawkins & the Juke House Kings '94 -'95
Big Carl '95 - '99
Blue Mercy '98 - '99
Toots & the Shades 2000 - 2001
Hard Bargain '99 - ?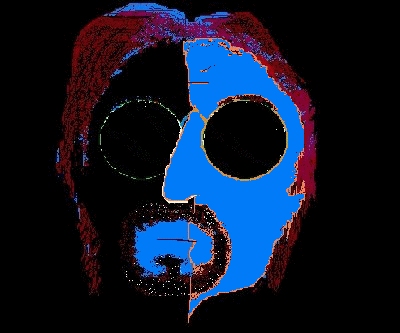 TO CONTACT
thebassguy
FOR GIGS, RECORDING,
WEB DESIGN, PHOTOGRAPHY,
or if you're interested in publishing or recording an original song of mine,
or if you just wanna say howdydoody...
Send email to:
thebassguy@thebassguy.com

MORE PICTURES
OF
thebassguy:
with TOOTS & the SHADES at the Bayou
with TOOTS & the Shades at the Festival
with Hard Bargain
with Big Carl
with Blue Mercy
with Juke House KIngs
Miscellaneous PIX

click button to return
to thebassguy's HOME PAGE
Background art is a photo of Lowell Fulson, taken by thebassguy at the Poconos Blues Festival.

IF YOU'RE


LOOKING
TO HIRE A DAMN GOOD BASS PLAYER IN THE NEW YORK AREA, LOOK NO FURTHER... CONTACT thebassguy
Just CLICK THE BUTTON HERE:
thebassguy@thebassguy.com
RETURN